Print this page
The bulk organic chemistry of the binder, polymer or resin system in a paint, coating or adhesive can be determined by FTIR.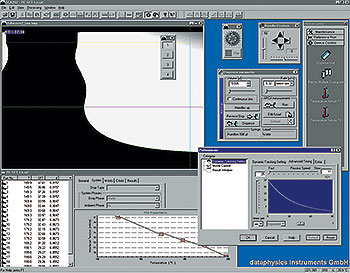 For paints, coatings, printing inks and holographic security material systems optimisation of the properties of a manufactured liquid or solid substrate, onto which a liquid is subsequently applied is required.
A qualitative and quantitative appreciation of the interaction (wetting or dewetting) at all surfaces; (paint, ink, coating and substrate) can be provided by contact angle measurements as a measure of success and the coating or substrate surface chemistry generating the wetting characteristics can be evaluated by XPS or SIMS to help optimise the functional performance.
More detail on paints, coatings and failure can be found at Interface Adhesion, Adhesives and Coatings.