Print this page
Laboratory's Hardness Testing Capabilities
Materials can have different degrees of hardness and this can affect properties like friction and wear characteristics during use. The laboratory has a range of hardness testing instrumentation to evaluate metals, plastics, rubbers and certain coatings depending on their thickness.
Two types of hardness testing equipment for metals and alloys are available:-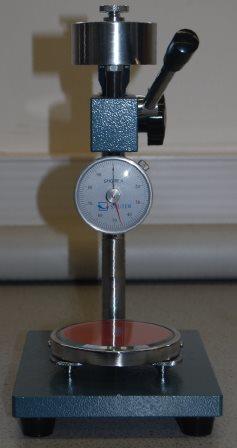 Vickers Hardness – A calibrated and maintained Vickers Pyramid hardness tester using 1kg to 50kg loads.
Rockwell Hardness / Superficial Hardness Tester – A Buehler "Macromet II" Hardness tester is available. Fitted with either a standard 120 degree conical diamond indenter, or a one sixteenth inch tungsten carbide ball indenter, the machine covers the Rockwell C, D, A, G, B, and F standard ranges, and 45N, 30N, 15N, 45T, 30T, and 15T superficial ranges. (Larger diameter ball indenters are available for very soft materials).
Hardness testing can be used a fast and cost effective alternative to tensile testing. A hardness test can be used to estimate the ultimate tensile strength UTS of steels. This approach is not valid for non ferrous materials though.
For rubbers, plastics and some polymeric coatings two other tests are available:
Shore A and Shore D durometers can be used for measuring plastics and rubbers.
Typical Applications of Hardness Testing
Measuring the hardness of tool steels
Measuring the hardness of bearing materials
Shore hardness for rubbers and plastics.
No documents matching criteria