Print this page
Dr Stephen Jenkins - Managing Director and Surface Analysis Expert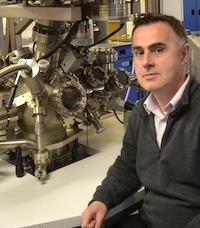 I have a Degree (Hons) in Materials Technology which included working for Duracell and GKN and PhD involving development of XPS instrumentation to understand a paint / substrate interfacial system. After a short contract at NPL working for Martin Seah, I joined Fisons Instruments - VG Scientific (XPS and AES instrument manufacturer) as an Applications Scientist. I then moved on to work as a Surface Analysis specialist in the Physical Failure Analysis department of Siemens Microelectronics (DRAM semiconductor wafer manufacturing) and then finally to Philips Blackburn (thermionic cathode manufacturer) as a development engineer. Here I brought in a whole range of surface analysis instrumentation to solve materials and production problems in support of cathodes and downstream CRT customer's factories. In latter years this work was also for customers outside the organisation involving completely different types of product. I moved into cathode Research and Development in a technical role and continued to gain experience in project management and project leadership before I became responsible for the management of the laboratory's 3rd party sales and business and technical activities. Successful business growth led to me managing the laboratory as a whole, looking after both internal and external business.
I have over 29 years experience in a diverse range of industries, the use of problem solving, product and process development, project management, decision making tools and have travelled widely on business over my working career. Immediately following the factory's closure, in October 2009 I led the management buy-out of the laboratory and the formation of the independent analytical and technical consultancy company LPD Lab Services Limited becoming the Managing Director.
Despite being the Managing Director and being responsible for all manner of commercial, budgetary, sales and marketing activities, I still conduct a large amount of technical work and write many technical reports. My responsibilities for LPD Lab Services include handling the first contact with customers, evaluating their requirements and issue of quotations. I organise the lab's response and also project manage larger customer support activities including product and process research and development. I frequently work on contaminant investigations and material and product failure analyses and my practical experience of a diverse range of analytical techniques, their capabilities and limitations, coupled with experience of materials and chemical analysis means I take a leading role in many technical projects as well as data interpretation and reporting.
During my career I have written, contributed to and had published a range of peer reviewed scientific papers as well as presented at numerous international conferences. I am also the technical surface analysis expert and have been a commitee member of the UK Surface Analysis Forum (UKSAF).
Dr Wyndham Johnstone - Technical Development Director and Thermionic Emission Expert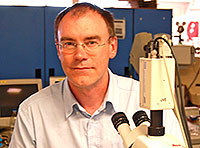 I joined LPD Lab Services at the end of August 2010 and am now the Technical Development Director. I am the customer interface and internal manager on the larger projects, ensuring that work is scoped out and delivered to customers on time and with the usual high level of quality and context orientated interpretation that LPD Lab Services offers. I am also the laboratory's key Thermionic Emission expert.
I have a proven track record in of developing innovative solutions to complex problem by exploiting a wide range of analytical techniques. I have many years of experience as a technical product manager, supporting a world wide customer base with their development needs requirements and solving their problems in a timely, cost effective and pragmatic way.
I have a PhD in experimental physics from University College London and in 1994 I moved to Philips Display Components in Blackburn.
I set up and managed a group to provide technical support in the use, application and development of the Blackburn product to its worldwide customer base (Europe, Asia and the USA). I was instrumental in identifying product development opportunities and leading cross-functional teams, often with customers, to deliver million Dollar cost savings.
I have also worked for Baxi Heating UK in their R&D centre. There I led several projects including one to rationalise the number of electronic control suppliers. I also developed a Baxi group electronics verification/reliability procedure, developing tools and techniques to improve the effectiveness of life testing to meet reliability requirements.
I am a Six Sigma Black Belt and have extensive experience of using these skills in combination with many of LPD Lab Services wide array of analytical techniques to develop new products or processes and solve problems.

Mike Ellicott CChem MRSC - Senior Applications Scientist - Laboratory Quality Director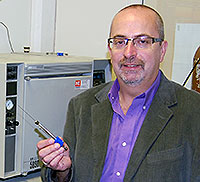 I gained a very practical degree (GRSC Part II) in Chemistry at Preston Polytechnic, and have held the professional qualification of Chartered Chemist (C.Chem) and Member of the Royal Society of Chemistry (MRSC) since 1991.
My industrial experience has been gained over 20 years at companies such as ICI, Chorley ROF (MQAD), BTP Cocker Chemicals, Whitbread, MITRE Sci-Tech Services, Wolstenholme International and finally LPD Laboratory Services. I have also studied for a Certificate in Industrial Management at Preston Polytechnic, and gained the Associate Membership Examination of the Institute of Brewing.
The roles I have taken on are as diverse as Laboratory Technician, Research Chemist, Pilot Brewery Scientist, Process Development Scientist, Packaging Development Engineer, Project Leader - Chemist, and Senior Applications Scientist.
My problem solving skills have developed by traditional approaches & by novel Synetics methodology. I am a proven inventor, having one patent for a dissolved nitrogen analyzer under my belt.
I am now part of a very experienced team at LPD Laboratory Services, mainly working in a customer facing role as a Senior Applications Scientist dedicated to giving our customers cost effective solutions to their problems, on-time and within budget. My responsibilities within LPD Lab Services also include acting as the Laboratory Quality Manager looking after UKAS accreditation as well as customer liaison and quotation preparation.
Dr Simon Romani - Technical Director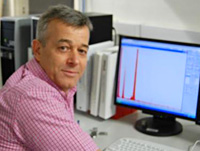 I am a laboratory Technical Director where my role is mainly customer facing dealing with complex technical enquiries from quotation generation, through project management to delivery and interpretation. I also have a direct role in providing SEM/EDX and SIMS analytical expertise, as well as additional backup in XPS activities.

I joined LPD from the University of Liverpool, where I managed the electron microscopy unit for over 9 years, culminating in the successful completion of a 3-year project to design, build and then manage the "Nano-Investigation Centre at Liverpool" (NiCaL). This included the role of Technical and Industrial Liaison Manager – managing a technical team providing Small and Medium Enterprise businesses with analytical assistance using the in-house SEM, TEM and dual-beam FIB facilities. My SIMS knowledge was largely developed working for MATS (UK), prior to it being bought out by the former CSMA, and before that at the National Microelectronic Research Centre (NMRC, now Tyndall National Institute) in Ireland. Prior to NMRC, I worked at the Atomic Energy Authority's Harwell Laboratory (now AEA Technology plc), with stints in the Materials Characterisation and CVD and Diamond Technology Groups after completion of my PhD in Ion Implantation.
Dr Kim Nickson - Laboratory Manager - Senior Scientist – Electron Microscopy and Chemistry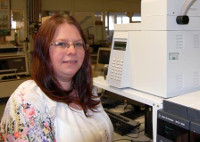 I graduated from the University of Central Lancashire with a degree in Forensic Science with Criminology after which I began my PhD in materials chemistry, also at the UCLAN. My PhD involved creating a novel nanocomposite with photocatalytic semiconductor properties. The nanocomposite was then used to perform photo-redox reactions to simultaneously oxidise and reduce pollutants in contaminated water courses.

After completing my PhD, I worked as a postdoctoral researcher for a number of years on a wide variety of projects before becoming the lead scientist for a small company working in the field of electrochemical capacitor optimisation. As part of a UCLAN centralised analytical facility I was responsible for conducting work using a diverse range of techniques: This included SEM/EDX, GC-MS, Carbon and Proton NMR, various electrochemical techniques including potentiometry, cyclic and capacitance voltammetry, as well as a range of wet chemical techniques like Karl Fischer titrations. After a number of years teaching science in secondary schools, I decided to move back into a technical and analytical laboratory role.

At LPD Lab Services I am the Laboratory Manager organising sample throughput and principally involved in conducting chemicals and materials analysis investigations as well as managing larger projects and contract research activities for speciic clients. I conduct SEM/EDX, optical microscopy and image analysis as well as contact angle and IC measurements. I am also involved in using and interpreting a range of other techniques including, electrochemistry, GC-MS, HPLC, UV-Vis spectroscopy and wet chemistry techniques.
Danie Els - Senior Metallurgist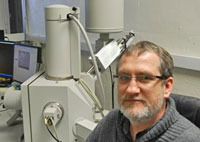 I studied Physical Metallurgy (BTech) at the Vaal University of Technology and Corrosion Control Engineering (MSc) at the University of Manchester. I have industry experience in steel rolling, heat treatment and forging. Most of my career involved quality control, process control, material testing, and failure examination.

My career started at an integrated steel manufacturing company where I was involved with product improvement, internal non-conformance investigation, and product failure examinations. I then worked for an industrial cutting tool manufacturer where I was responsible for the operation of the heat treatment plant and the metallurgy. This was followed by a period engaging in quality control at a forgings and ring rolling company. Thereafter, most of my experience was gained at metallurgical test laboratories. This involved diverse types of routine metallographic examination, standard corrosion testing, failure examination, reverse engineering, remanent creep life assessment, and metallurgical consultation.

I started at LPD Lab Services as a Senior Metallurgist at the end of February 2017. My main responsibilities are metallurgical assessments, failure analyses and consultancy, but I am also familiar with SEM, EDX, XRF, and XPS.

Dr Aeryn May MRSC - Senior Analytical Chemist - Health and Safety Manager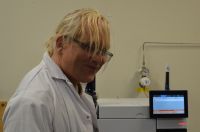 I graduated from the University of Sheffield with a dual honours in pharmacology and chemistry and moved on to the University of Huddersfield for a masters in analytical chemistry and more recently on to the University of Central Lancashire to complete my PhD . My PhD involved the scaling of standard test fires and studying the early stages of fires to work towards smarter and more discriminating fire detectors.
From there I have worked in many sectors from bulk chemicals (Akzo Nobel) to Pharmaceutical research (Astra Zeneca) and environmental consulting (Aqua Enviro) . I also have some medical devices (DePuy) and materials testing background (Exova) and while there I ran the ISO 17025 quality management system for a couple of laboratory's in the UK. Over this varied background I have been able to apply my problem solving skills in a diverse range of ways, although my main specialities are in chromatography (e.g. HPLC, GC-MS) UV spectroscopy as well as tensile testing.
At LPD Lab Services I lead a range of technical interdiciplinary projects involving multiple analytical techniques and interpret the results. I am an experienced organic analytical chemist so this is reflected in the range of instruments I use in the laboratory such as HPLC, GC-MS, GC, contact angle measurements and wet chemical techniques. I am also the responsible for managing Health and Safety within the laboratory.
Keith Raper - Consultant Senior Scientist - SEM, EDX and XRF Expert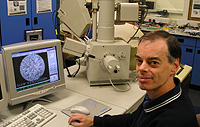 I graduated from Liverpool University in 1978 with a BSc (Hons) in Chemistry with Metallurgy and Materials Science, before working as a research assistant at the University studying the effects of high temperature corrosion on corrosion resistant coatings on nickel based super-alloy materials, developing a knowledge of electron microscopy and microprobe analysis.
I joined Philips Components (formerly Mullards) in 1984 as an analyst in the laboratory, but soon took over responsibility for production problem solving work using the electron microscope, EDX and X-ray Fluorescence analysis.
I developed expertise on problems associated with a wide range of materials and manufacturing processes, since the factory produced several different products, including thermionic cathodes for TV tubes, CD's and video discs (including a full master and stamper making facility), spiralised tungsten and molybdenum wire (with production from ore to finished product), glass delay lines, flat foil capacitors, write-once recordable laser discs and fibre optic coupling devices.
In addition to this, I have undertaken problem solving and analysis work for other UK, European, American and Far East factories in the organisation, manufacturing glass screens, metal masks, TV tubes, magnetic deflection cores and rare-earth magnets, as well as for several local companies manufacturing a range of metal products and components, printed circuit boards, powder chemicals etc.
My role in LPD Lab Services is that of SEM, EDX, Optical Microscopy, Image Analysis and XRF expert, and I am frequently asked to join both local and international teams set up to investigate manufacturing, product and process problems, contaminant identification, isolation and elimination, where I normally take a leading technical role.
The type of work I have experience in has diversified since 2003, as the laboratory branched out into increasingly different areas of analytical and technical support for all manner of industries. The in-depth interpretation I provide draws upon my materials and chemicals experience. I occasionally conduct customer site sampling visits related to dust issues, but a significant proportion of my work involves contaminant identification in products and processes and reverse engineering.
Dr Howard Coulson - Senior Applications Scientist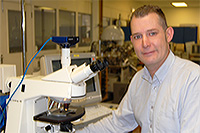 I have a Degree (Hons) in Pure and Applied Physics, and progressed onto an industrial PhD involving the characterisation of deep levels in microwave devices and the device noise from Philips Power Semiconductors. I began work for Siemens Microelectronics as a Physical Failure Analysis Engineer, to determine the failure location, reverse engineer, and analyse defects created during and after processing. I then moved on to be a development engineer for Philips Power Semiconductors, developing a novel power schottky device in the manufacturing area. This allowed an insight into the demands and requirements of manufacturing and the need to develop new products. I then returned to Failure Analysis with ATMEL, a smartcard and microcontroller manufacturer as a Principal Engineer. This experience has allowed me to use a varied suite of techniques and provide customer support to process, product, development, yield and quality assurance departments.
I have 9 years experience in the semiconductor industry using a variety of techniques in a fast turnaround, results based industry. I have experience of statistical process control, project management, developing local networks for business enhancement, and managing a department. I am currently undertaking an MBA with the Open University.
I am part of an experienced team as a Senior Applications Scientist, complementing the team with my extensive use of SEM, EDX, FIB, wet and dry etching. My responsibilities within LPD Lab Services include acting as the, customer liaison, quotation preparation and project management. I am also responsible for analysis using SEM and other techniques within the group.
Mike O'Hare - Analytical Inorganic Chemist and Technician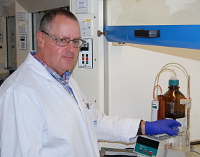 I graduated from Manchester Polytechnic in 1986 with an HND in Material Science. I then started work for a company producing metallic powders working in both chemicals and materials analysis. I gained experience of operating an AAS for the evaluation of trace elements for quality assurance of the metallic powder and also monitor the site's interceptor pit for any contamination. Additionally, I operated the UV/Vis spectrophotometer for the determination of chemical oxygen demand of waste water, again for signs of contamination. I conducted organic determinations of fatty acids using wet chemical analysis and FTIR. I gathered experience using wet chemical techniques and titration methods adding to my proficiency at accurate quantitative inorganic chemical analysis. On the physical characterisation side, I performed metallographic preparation of foundry samples using Leica optical microscopes and used an SEM to evaluate the surface details of metallic flakes. This involved the sample preparation and producing SEM images for customers. In terms of physical properties, I operated a tensile testing machine and hardness tester to monitor alloy properties too.

My next role was working for a global chemical supplier working in the coatings development laboratory developing new formulations to demonstrate the performance advantage of new development additives ready for market launch. I carried out flexural and tensile testing of glass reinforced plastic panels as well as performing impact testing and hardness testing (pendulum) on coatings. Rheology measurements using Brookefield, Stormer Krebs, Rotothinner and ICI viscometers was also part of this role.

At LPD Lab Services I am mainly conduct routine analytical inorganic chemical analysis and some more bespoke activities. Work involves a wide variety of wet chemical analysis, titration methods, pH, AAS, ICP-MS, UV-Vis and IC to generate to quantitative and qualitative results for customers, together with supporting an ever-expanding variety of materials and chemical multi-technique failure investigations.
Dr Justyna Anwar - Analytical Chemist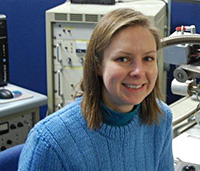 I graduated from Manchester Metropolitan University in 2010 with a BSc (Hons) in Forensic Chemistry after which I started my PhD in the University of Manchester. My PhD involved studying corrosion behaviour of magnesium alloys with particular focus on galvanic corrosion in contact with steel. I am experienced in the use of electron microscopy, corrosion and electrochemical testing. I am also familiar with a range of analytical techniques, such as AAS, HPLC, GC and UV spectroscopy.

At LPD Lab Services I have a role as an analytical chemist and am principally involved in corrosion failure, materials degradation and surface analysis investigations including using SEM/EDX, potentiostat, TGA and XPS at present. Work also involves conducting materials and chemical failure investigations, wet chemical activities as well as supporting a range of the other problem solving investigations carried out for clients by the laboratory staff and consultants.
Harry Knappett - Senior Analytical Chemist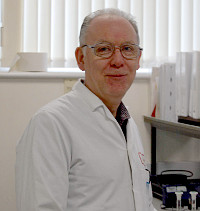 I am an experienced analytical chemist with a BSc(Hons) in Chemistry, a Chartered Chemist and a Member of the Royal Society of Chemistry since 1991. I also have qualifications and experience in both quality and training.
I worked in both the toiletries and oil products industries including a period in scaling up quantities from laboratory bench to small industrial batch production before moving into analytical chemistry
in Public Analysts' laboratories where most of my experience has been. In these laboratories I have used a wide variety of wet chemical methods including titrimetric and gravimetric analyses, a mixture of extraction techniques and instrumental techniques such as AAS, flame photometry, UV-Vis, HPLC, GC and GC-MS. I have used these techniques to analyse a large number of different sample types including food, post-mortem samples, fertilizers, animal feeding stuffs, toiletries, cosmetics, furniture, water and soil. This has included method development, validation and documentation with a wide range of analytes including metals, drugs and toxins, hydrocarbons, preservatives and vitamins.
Examination of extraneous materials discovered in food has led me into other fields such as microbiology and entomology while a pollution scare once had me digging holes in the pristine lawns of a new housing estate!
As a Senior Analytical Chemist at LPD Lab Services my main responsibilities involve using traditional chemical analysis methods including titrimetric methods, HPLC, FTIR, UV-Vis spectrophotometry, GC-MS, GC-FID and AAS. I develop bespoke methods, duplicate, adapt and improve standards, conduct a variety of extraction techniques and carry out validation using robust protocols. These techniques are applied to the identification and quantification of chemicals and materials and are additionally used to investigate and solve technical problems across a wide range of different industries.
Matthew Edwards - Analytical Chemist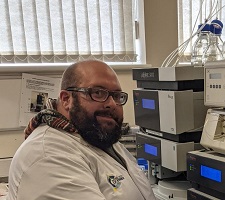 I graduated with a Masters in Chemistry from York University in 2006, since then my work has focused on Analytical Chemistry. Within 10 years working in the filtration industry at Pall Europe I focused primarily on extractables and leachables testing of filtration products used in the Pharmaceutical, Food and Beverage and Aerospace sectors. During my time I was involved in a wide range of activities from routine testing to method development and finding solutions to test novel products.

I spent 2 years teaching secondary science and A-level chemistry before moving back into lab based roles. For the last 5 years I have worked at various companies (Patheon (Thermo Fisher), Aesica Pharmaceuticals and Broughton Laboratories) in QC roles within the pharmaceutical sector testing a wide variety of products both in bulk API and finished products.

Through my various roles I have gained a wide range of experience in many different chemical analytical techniques but primarily in HPLC, GC, GCMS, FTIR and UV-Vis and these are my primary roles at LPD Lab Services.
Iola Main - Degree Apprentice Analytical Chemist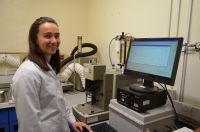 I am currently studying on a degree apprenticeship programme with the University of Nottingham, which involves distance learning alongside working at LPD, accompanied by weeks of full-time teaching throughout the year. This allows me to gain practical experience working in the lab on a diverse array of complex andalytical and investigative projects while also working towards my degree.

I started working at LPD in October 2020, where my work involved conducting experiments on a variety of instruments, both independently and alongside other experienced staff as well as carrying out the role of laboratory technician. I regularly use TGA, DSC, FTIR, UV-Vis, AAS, SEM/EDX, optical microscopy and contact angle measurements, as well as a variety of wet chemical techniques and have developped particular expertise in DSC.