Print this page
LPD Lab Services Ltd is a management buy-out company formed from the site's experienced laboratory technical support staff from Blackburn MicroTech Solutions (BMS) in October 2009. BMS was formed from the former Philips Components organisation that itself started life as the Mullard Radio Valve Company Limited in 1938.
At Blackburn MicroTech Solutions, the site developed and manufactured cathodes for all types of cathode ray tubes (CRT) including colour picture tubes (CPT), monitors and colour data tubes (CDT), projection TV (PTV) as well as medical and defence CRTs (HUD: Head-up Displays). Other applications included electron sources for X-ray production and electron beam lithography as well as robust microwave sources for communication systems and redesigned valves for high end sound amplifier systems.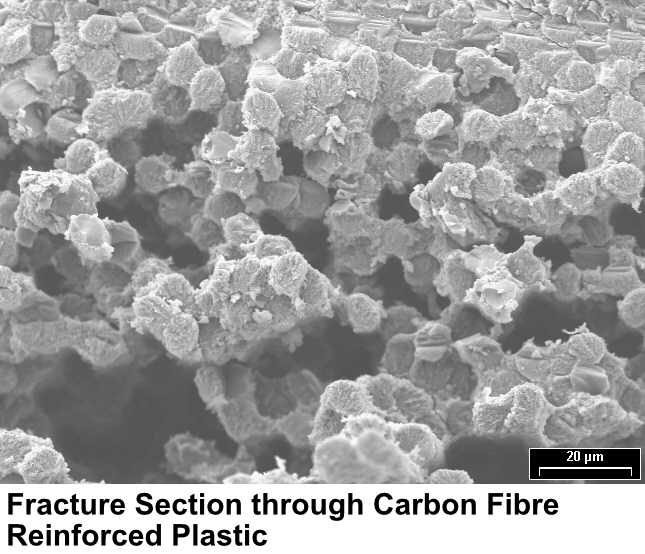 Fracture Section through Carbon Fibre Reinfored Plastic
Before the Management Buy Out LPD Lab Services was essentially a mini-business at BMS which spent about 25% of its time supporting internal product development, manufacturing issues including yield improvement activities and customer technical support.
LPD Lab Services solves customer's process problems, is involved in client's development of new or improved products / processes and competitor reverse engineering. The lab uses its diverse product and process knowledge and its comprehensive range of analytical techniques for this work. Less commonly also the lab provides routine measurements.
It is the lab's wealth of product and process knowledge, chemistry and materials science backgrounds plus the way in which the staff collectively apply this knowledge which has meant the laboratory has had a steep growth (2400%) of external work since third party work was first focused on in 2003. External work and communication at the appropriate technical level for the customer has been a core strength as part of Philips for the laboratory since its formation many decades before: It is this strong professional foundation on which LPD Lab Services is built. The focus on customer service, knowing what the customer aims to achieve, and rapid response and turnaround times have meant in 2023 the laboratory has several thousand of external customer companies across an extremely diverse range of industries. The customer base continues to grow by the week adding new clients to a long list of satisfied customers returning with different issues for the lab to help with or solve.

Our Former Parent Company

Royal Philips Electronics of the Netherlands is one of the world's biggest electronics companies and Europe's largest, with sales of EUR 29 billion in 2003. It was a global leader in colour television sets, lighting, electric shavers, medical diagnostic imaging and patient monitoring, and one-chip TV products. It employed 164,500 people in more than 60 countries was active in the areas of lighting, consumer electronics, domestic appliances, semiconductors, and medical systems. Philips is quoted on the NYSE (symbol: PHG), Frankfurt, Amsterdam and other stock exchanges.
Further information is located at: www.philips.com