Print this page
Ideally every quarter LPD Lab Services produce and distribute a Newsletter to all company clients. In each issue the lab highlights analytical techniques, technical experience and capabilities that the business is competent in delivering.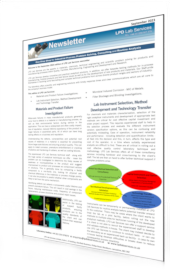 Below are downloadable PDF files of the current and back issues. The laboratory periodically publishes in the public domain or presents at Trade Shows or Conferences: A selection of these can be found in Publications and Presentations.
Download Newsletter September 2023 (PDF) - LATEST
Contents: -
Materials and Product Failure Investigations.
Lab Instrument Selection, Method Development and Technology Transfer.
Microbial Induced Corrosion - MIC of Metals.
Filter Blockage and Blinding Investigations.
Download Newsletter March 2023 (PDF)
Contents: -
Stress Corrosion Cracking of Metals and Environmental Stress Cracking of Plastics and Rubbers.
Extractables and Leachables Analysis.
New Ion Chromatography Instrumentation.
Outsourcing Analytical Services and Method Development.
Download Newsletter Summer 2022 (PDF)
Contents: -
Electronic and Battery Testing.
Lead in Paint testing - UKAS Accredited Method
Thermal Analysis - DSC and TGA.
Thermal Desorption GC-MS Analysis
Research and Development Analytical Labs.
Download Newsletter Autumn 2021 (PDF)
Contents: -
Degradation – Plastic, Rubbers and Coatings.
Antimicrobial Coatings and Polymers.
Investing in the Future - A Very Modern Degree Apprenticeship - Iola Main.
Matt Edwards, Analytical Chemist New Starter for Capacity and Capability Expansion.
Growing Additional GC-MS Capacity.
JOSCAR Certification.
Out-sourced Product Development, Research and Development plus Analytical Laboratory.

Download Newsletter Late Spring May 2020 (PDF)
Contents :-
Continued Operation During COVID-19 Lockdown
Automated Particle Characterisation and Analysis
Quantitative Alcohol Testing Methods
Chemicals and Materials Compatibility
LPD Awarded ISO 17025:2017 Certification
Download Newsletter Spring March 2020 (PDF)
Contents :-
COVID-19 Plans and Continued Customer Support
Introduction of Bruce Swan – Commercial and Business Development Manager
Perkin Elmer Spotlight 400 FTIR microscope Imaging System
Successful Transition to UKAS ISO/ IEC17025:2017
Download Newsletter Autumn September 2019 (PDF)
Contents :-
Chemical Plant Failure and Material Compatibility
Analysis of Foreign Bodies in Pharmaceutical Products
Phenolic Foam Induced Water Pipe Corrosion
Download Newsletter Spring March 2019 (PDF)
Contents :-
Download Newsletter Winter January 2019 (PDF)
Contents :-
Harry Knappett - Senior Analytical Chemist
Applications of SEM/EDX - Particle Contamination Elimination
Cross-Sectional SEM Investigations
The Quality is in the Image
Outsourced Development / R&D /Analytical Labs
Download Newsletter Autumn 2018 (PDF)
Contents :-
Mike O'Hare – Analytical Inorganic Chemist
New Laboratory Equipment and Service – Pyrolysis GC-MS
New Laboratory Equipment and Services – Potentiostat instrument for Electrochemical Analysis
LPD Lab Services as an Outsourced Development / R&D lab, the Future is Bright
Download Newsletter Spring 2018 (PDF)

Contents:-
Dr Kim Nickson – Senior Scientist - Electron Microscopy and Chemistry
Successful Renewal of UKAS ISO/IEC17025:2005 Accreditation
Corrosion and Failure – Should You Be Concerned?
New equipment at LPD – Testometric M500-50CT Mechanical Test Machine
LPD Lab Services - The Full Problem Solving Suite
Download Newsletter Winter 2017 (PDF)

Contents:-
Analytical Metallurgical Testing Services, metallography, fractography and consultancy
Typical Applications of Metallurgy
New equipment at LPD – Agilent 55b Atomic Absorption Spectrophotometry
Typical Applications of AAS - Atomic Absorbance Spectrophotometry
REACH Deadline 1 June 2018
Download Newsletter Spring 2017 (PDF)

Contents:-
Senior Metallurgist Joins LPD Lab Services
Applications of SEM/EDX - Scanning Electron Microscopy
SEM Applications within Metallurgy
SEM Applications within Electronics
SEM Applications within Products
SEM Applications within Chemicals and Materials
SEM Applications within Legal / Insurance Claims, Construction and Infrastructure
Download Newsletter Spring 2016 (PDF)

Contents:-
GC-FID
Ion Chromatography
Polorimeter
Viscosity
Auto Titrator, Ion Selective Electrodes and Karl Fisher Capability
LPD Expands With New Director and Consultant
Download Newsletter Spring 2015 (PDF)

Contents:-
HPLC – Capacity Increases
Coating Plating Bath Problem Solving
RAPRA & Technical Consultancy Services
Download Newsletter Autumn 2014 (PDF)

Contents:-
Corrosion Investigations
Failure Analysis, Quality Improvement and Competitor Reverse Engineering
LPD Lab Services Invest in a 2nd Scanning Electron Microscope
Download Newsletter Summer 2014 (PDF)

Contents:-
New GC-MS & Headspace Capability
ICP-MS, AAS and XRF Composition Analysis
Introducing Another New Member of Staff - Dr Justyna Anwar
Download Newsletter Winter 2013 (PDF)
Contents:-
Capability Increases and Collaborating Laboratories
LPD Lab Services and RAPRA at Mediplas 2013 and Advanced Engineering Composites 2013
New Analytical Facilities – ICP-MS and IC
Download Newsletter Spring 2013 (PDF)
Contents:-
Typical Customer Applications as a Preferred Supplier to RAPRA
A New Applications Chemist with PCB and Chemical Formulation Experience
Contamination, Isolation Identification and Elimination
Download Newsletter Spring 2012 (PDF)
Contents:-
LPD Lab Services Business News
LPD has Two New Members of Staff
Enhanced HPLC and TGA Analytical Capabilities
The Laboratory becomes a RAPRA Preferred Service Provider
Download Newsletter Spring 2011 (PDF)
Contents:-
Problem Solving, FMEA and 6 Sigma Activities
Collaboration with Red Embedded on PCB Failure Analysis
Successful Renewal of UKAS ISO/IEC17025:2005 Accreditation and Customer Survey
Download Newsletter Autumn 2010 (PDF)
Contents:-
Recruitment of Technical Development Manager - Dr Wyndham Johnstone
Enhanced FTIR Organic Identification Capabilities
Product Lifetime, Shelf Life Improvement and Operational Testing
Download Newsletter Spring 2010 (PDF)
Contents:-
Product and Benchmarking Process Research and Development
Materials Analysis and Failure Investigation
Download Newsletter Winter 2009 (PDF)
Contents:-
Launch of LPD Lab Services Ltd and Contact Details
Enhanced Capabilities in Surface Chemistry and Surface Wetting Characterisation
Electronic Cigarette Chemical Evaluation
Download Newsletter Summer 2009 (PDF)
Contents:-
Chemical, Electrochemical, Physical, Thermal & Electrical Discharge Surface Treatments
Determination of Painting and Seal History by Filler Fingerprinting
Optical Microscopy & Image Analysis
Download Newsletter Spring 2009 (PDF)
Contents:-
Chemical Cleaning and Degreasing
Electronic Devices & PCB Manufacture
Typical Laboratory Support Work Index
Download Newsletter Autumn 2008 (PDF)
Contents:-
Product and Process Deformulation & Reverse Engineering
Industrialisation for Product and Process Development
Interface Adhesion, Adhesives and Coatings
Download Newsletter Spring 2008 (PDF)

Contents:-
How Technically Sound is Your Process - Site Sanity Audits
Particle Characterisation, Contamination Elimination and Particle Counting for the Pharmaceutical Industry
Corrosion, Degradation and Oxidation
Research and Development
Download Newsletter Winter 2007 (PDF)
Contents:-
Contaminant Analysis
Importing Goods?